Alcon is the global leader in eye care. As a division of Novartis, they offer a broad portfolio of products to enhance sight and improve people's lives. Their purpose is reimagining eye care, and they do this through innovative products, partnerships with eye care professionals and programs that enhance access to quality eye care.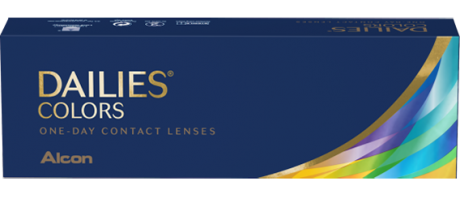 DAILIES® COLORS
Alcon introduces its latest innovation...
As with all DAILIES® contact lenses, DAILIES® COLORS are designed with advanced technologies to provide exceptional vision and comfort. These lenses are available in four vibrant colors: Mystic Blue, Mystic Hazel, Mystic Gray and Mystic Green.

Learn More >>
All Brands

The AIR OPTIX® family of contact lenses provide a healthy, natural feeling. Thanks to the innovative TriComfort™ Technology they retain moisture, resist deposits, and enhance breathability to keep your patients comfortable from breakfast to bedtime.

Only DAILIES® brand contact lenses moisturize with every blink. And there's no lens care required. Every morning is a fresh new start with a new pair. Give your patients the freedom, comfort and convenience of DAILIES® brand contact lenses.

Specifically designed to address contact lens discomfort, DAILIES TOTAL1® Water Gradient Silicone Hydrogel (SiHy) contact lenses are the first daily disposables to more than double water content from core to surface. This means your contacts will breathe more giving you longer-lasting comfort throughout the day.

A subtle enhancement or noticeable color change for all natural eye colors. Patented three-in-one color technology provides a natural-looking effect. Give your patients a fresh look.